For many tourists visiting England, the royal family represents a particularly interesting part of our history and culture. The legacy of the monarchy in the country goes back countless centuries and there is an enduring fascination with all things royal. Fortunately there are plenty of opportunities across the country to visit important landmarks and historical sites where you can learn more about the amazing characters that have ruled our country in the past, as well as our current Queen Elizabeth II.
The State Rooms, Buckingham Palace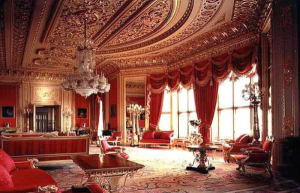 The Queen's iconic London residence is of course the most recognisable and impressive royal landmarks in the country by most people's reckoning. The State Rooms are the part of the palace that guests are allowed to visit today, although they are still in use for official ceremonies and occasions. There are nineteen State Rooms, mostly retaining the style they were given in the 1820s by King George IV (it was during this renovation that the building was transformed from merely Buckingham House into Buckingham Palace). In the State Rooms you'll find stunning pieces of furniture and works of art from the Royal Collection, and be given a guided tour explaining the fascinating events that have taken place in each one.